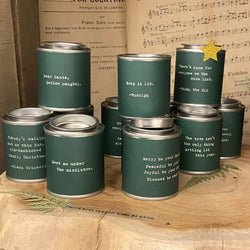 Holiday Candle Collection
Perfect for traveling or an add on gift. These candles are vegan and made of soy wax.
1. Nobody's walking out on this fun, old-fashioned family Christmas. -Clark Griswold
2. I fa la la la love you.
3. The tree isn't the only thing getting lit this year.
4. Meet me under the mistletoe.
5. There's room for everyone on the nice list. - Buddy the Elf
6. In the world full of Grinches, be a Cindy Lou Who.
7. Dear Santa, Define naughty.
8. Keep it lit. -Rudolph
9. Merry everything & happy always!
10. Merry be your Christmas
Peaceful be your home
Joyful be your family
Blessed be each one
11. Merry Christmas, ya filthy animal.
12. May your days be merry & bright.