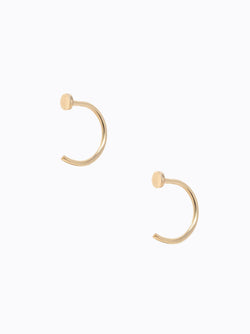 Illusion Hoop Earrings Gold
These earrings are a classic stud with a fun, modern twist. Slide them through to showcase a simple stud in the front. We love these paired with our cosmic studs.
Available in 14k gold-fill
3mm gold circle, 18 gauge wire

Sterling silver and 14k gold posts are naturally soft due to the natural of the natural metal content (just bend 'em back into shape if they get out of whack)

Tip: loop these earrings in backwards for a closed mini hoop look
Our jewelry is skillfully crafted by hand in Nashville, TN. Slight variations add to the uniqueness of each piece.